September 11, 2020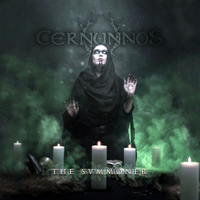 The mysterious twilight of the night forest, in which the lost wanderer sneaks, envelops in the invisible singing of birds and a muffled melody, into which the howling of wolves bursts. This Cycles instrumental mystery begins the Cernunnos (ARG) - The Svmmoner (EP) album with a twilight atmosphere of enigmatic foreboding.
After such an intriguing intriguing introduction, the Torc explodes with a furious drive at first, weaving guitar riffs with harsh growling. But then the vocal part is transformed by the relief of the musical race, crowned with dreamy melodies of clean vocals. Then the composition is transformed by the influence of oriental folklore, and the addition of the rhythmic structure of the unity of spicy folklore motives with a progressive complication of the rhythmic structure. Clean vocals lift their tonality to the sound like power metal music's.
The Svmmoner title composition takes you into the vastness of forgotten fairy tales, at first captivating with motifs of Celtic folklore, then bringing brooding reflections of clean vocals, but then weaving a lace of symphonic grandeur around the unity of screaming and growling in the vocal part, continuing the musical narration with the unity of a duet of clean vocals, supplemented by short phrases in the finale musical fragments. The crow's croak completes the title track, invoking a whirlwind of drive in the opening of the final composition of the album The Arcane Below, in which the instrumental bridge, anticipating the verse, brings the music of the druids. The verse wraps around the musical passages of the unity of the screaming and growing vocal part. The chorus raises the motives set by the bridge to musical heights that were previously inaccessible.