May 13, 2021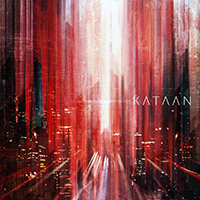 Severe and dark vocal recognition, weaven with deep and dense musical passages, rolling the waves of a powerful and dense drive are combined into the sound of the Erase composition, starting the Kataan - Kataan self-titled album with impressive sound with spicy shades of the oriental folklore, sometimes complemented by the background chorands of clean vocals.
Epic headings of the Abyss fascinating fairy tale are transferred to the expanses of ancient legends, rolling the waves of the mid-tempo pulsating march atmosphere of a magnificent hymn, which again combining the dominant stern rogue with sensual and dreaming handles of clean vocals and breathtaking epic melody.
The Processor tale moves clean vocals to the foreground of the musical image and clearly enhances the influence of oriental motives on the development of the musical composition. But then the music accelerates the tempo and more importance pays the driver and vocal grorong, while maintaining the motives given to the naway and sometimes paying vocal phrases with sparkling lace of guitar solo.
The final composition of the album Vessel appears as a separate musical artwork, completing this release by the embodiment of all its features and combining and alternating in the vocal party, clean vocals and rogue, complementing it sometimes with a more rapid drive with emotional vocals screaming.