March 28, 2022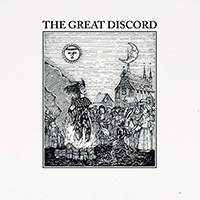 Emotional proclamations of vocal reflection come to the forefront of the Heart musical image, leading to an in-depth and all-consuming p erception of the musical essence of the The Great Discord - Afterbirth (EP) album, continuing with the rhythmic and persistent march of the title track, in which the persistence of musical insistence is complemented by the enchanting mystery of the vocal part, complemented by the background chorus. But in the chorus, vocals and music unite in a whirlwind of breathtaking dance, further transforming into artistic shifts of progressive musical lace.
Echoes of futuristic musical impulses and a vague heartbeat of mechanical essence anticipate the introduction of the vocal narrative of the Army Of Me song, then complementing the vocal proclamations with powerful rhythmic pulsations, combined with vocal emotionality in echoes of oriental motifs.
The vocal monologue begins the Neon Dreaming final composition of the release with sensual charm, then complements the impressive skill of the singing lady with the support of a symphonic musical atmosphere, culminating in the noise of flaming ruins and the hysterical wailing of the suffering woman.