December 14, 2016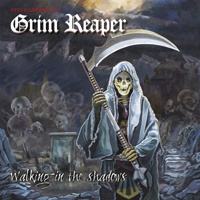 You can not see anything at hand, nothing seems clear and understandable - as long as necessary to Grim Reaper - Walking In The Shadows !
A fun and provocatively Wings Of Angels begins the saga, raising extravaganza guitar and vocal phrases to the triumph of dark forces.
Title track Walking In The Shadows follows the story with persistent pressure, finishing every lap of that journey with fierce exhalative impulsive of emotions and accumulated experience.
Powerfully and angry starting,Reach Out dancing its war dance without any refuse - it cant recognise no resist, no remorse!
Story points to the fact with confident sharp riffs - I'm Coming For You! Vocals sparkling in the flickering manner, taking emotional tone in the Celestial height.
Introduction and couplets systematically and powerfully pierce steps in the way and creating the basis for the chorus, which repeats to us From Hell! over and over again! The fast eddies of ornate guitar riffs Call Me In The Morning competing its story, flies on the wings of demonic creatures, carrying it to the festival of darkness and vice! On average pace, steadily and powerfully arguing with vocal phrases and confident guitar riffs obvious truth - Rock Will Never Die, that's all, folks!
Furiously, forbidding provides Temptation to all, who are close enough - they can only take and survive, there is no way to stop or interrupt that furious burst!
Lightly, in mid-tempo pace - so close to the ballad style, description of the surrounding Thunder taking its part to us, turns into ballad from time to time.
Now You See Me anxiously and flurried begins, turns the nervous thoughts - that prevails the calm factors to keep us in trouble mind.
Quickly moving in style power metal Blue Murder rushes impetuously and inexorably, carrying the sound of the most remote parts of the universe.
Come Hell Or High Water continues to move further, not calming down on the achieved whipping speed and the pace of its light and nimble sounds.