March 30, 2022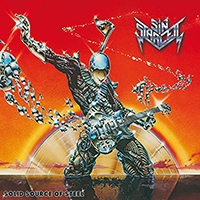 After the symphonic mystery of the introduction, the title track of the Sin Starlett - Solid Source Of Steel album is captivating in its musical unity of music and vocals in the pursuit of vivid achievement.
The Rule Or Obey composition, beginning with the sound of a pensive ballad, then transforms into an epic saga, raising banners of honor to valiant exploits.
The harsh guitar passage anticipates waves of bright drive, rolling in with the energetic mid-tempo sound of the Straight And Ready song, crowning the musical rushes with vocal phrases. The Streetlight Domino musical thriller is relentlessly rushing into battle, seeking to develop fighting skills in countless combat encounters.
The intro guitar solo confidently and irrepressibly moves into the foreground of the Struck Down main motif, combining the mood of a battle march and the melodic charm of a ballad in the composition. After a significant performance, the Blessed By The Shot song brings the vocal part to the forefront, summing up the musical bars with sonorous guitar.
The sage's speech anticipates the development of the musical whirlwind of the Waves Of Hamartia tale, foreshadowing the musical charm of the album's Iron Stamina final composition, which embodies its entire musical essence.