September 09, 2020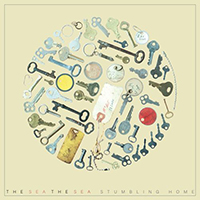 The Nothing Brighter vocals raise flags of inspiration, the singing lady creates a mesmerizing atmosphere and inspires hope and charm. The A Thousand Years vocals come to the fore, bringing country-style elements to the album's The Sea the Sea - Stumbling Home sound. The sound of the I'll Be Loving You composition complements the music with calming and pacification.
Acoustic guitar and vocals intertwine in a wistful dance of the Parachute romantic ballad. The pensive reflections of the singing lady come to the Real Thing fore, complementing her phrases with the chime of an acoustic guitar string. The Broken vocals reflections are combined with background vocals for a mesmerizing romance.
The Foreign Country leisurely ballad weaves a guitar solo with vocal reflections in a leisurely dance. The Rainstormslamming and chime of acoustic guitar strings creates a soothing anticipation for the holiday. Vocal narration comes to the forefront of the Fall Before The Climb composition, carrying guitar riffs along with its phrases. The Stumbling Home title track closes the album with a soft, pacifying ballad - like bards sitting by the fireplace and recalling their past travels.