January 03, 2021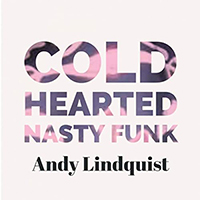 The guitar solo, which sets the sound of the main motive, alternates in the foreground of the Your Smokes Getting In My Eyes musical composition with the vocal part, starting with this unity the musical history of the Andy Lindquist - Cold Hearted Nasty Funk album, continuing with the rhythmic notes of the unity of traditional rock with blues in the sound of the You're History song. Rolling waves of stubborn drive, the Time For A Good Man's Word crowns them with the artistry of keyboard passages and complements the variability of the vocal part.
The romantic passages of the Endlessly In My Dreams ballad anticipate the development of musical ideas in the Cold Hearted Nasty Funk title composition, hardening the density of musical drive and vocal phrases in the valiant grandeur of the solemn anthem. fter such a persistent march, the Using Up SpaceA song creates an atmosphere for new adventures and readiness for mysterious trials. The Got A Lot To Learn About Love bringing to the fore the sound of vocals part, they complement the reflections on feelings and love at first with an acoustic keyboard background, then complementing the symphonic lace of the orchestral suite and the background singing.
The motives of restrained drive carry away the celebration, accentuating the It's Time To Party song's name with a vocal part. The sound of the title of the Love Is Our Foundation composition suggests a ballad, but the musical procession goes on the verge of a mid-tempo church anthem, complementing this atmosphere with vocal combinations. The Not Too Late For A Change last composition of the album begins with an impressive guitar solo, then combines these motifs with the tunes of vocal phrases.