October 18, 2022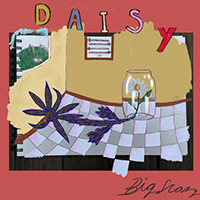 The twilight mysterious atmosphere of the Chapter IV: entry creates a bewitching mystery of the musical picture of the The Big Scary - Daisy album, continuing with unhurried melodic thoughts of the piano in the A Breath instrumental composition, captivating mesmerizing melodic variations with romantic shades.
The vocal part brings its influence into the musical lace of the Wake song, sometimes supporting the main vocal with background melancholy melodies, taking you to the expanses of dreams and imaginary images. After building the musical castle of the main motive, the Love To Love track brings thoughtful vocal reflections to the forefront of the musical image, exalting vocals emotionality to the top of the musical story.
The vocal part moves to the forefront of the musical canvas of the Stay song, using the full and unshakable musical support, moving to the top with the rhythmic pulsations of instrumental bridges, accelerating in a joint procession of the chorus along with the vocals. Fascinating echoes of the Wild West atmosphere are combined with a soft lounge and vocal reflections in the intriguing development of musical variations of the Get Out! composition. In the Kind Of World song, female vocals are combined with rhythmic jumps of musical passages, complemented by the rhythmic heartbeat of percussion rhythms, thickening the rhythmic pace of musical passages in the Bursting At The Seams march, weaving male and female vocals in a duet, alternating male and female vocals then in questions, answers and dialogue and complete the album the sensual charm of the One In A Million romantic ballad with the sparkling tenderness of the keyboards passages.