September 28, 2016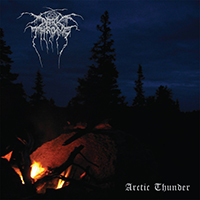 The northern area is not expected to relief, prepares only to Darkthrone - Arctic Thunder . The winter is coming!
Stubborn beginning is burdened by the ambient atmosphere that being spread by Tundra Leach. After persistence and perseverance in the introduction, the pace of history and its saturation increases a lot, monster encounters fierce resistance. Then Clear rhythm striding forward with the, driving its steps in the way and leaving footprints on stones of the road.
Burial Bliss flies in the wild and unstoppable rhythm, vocal history, on the other hand, slowly and nervously informs its data.
The atmosphere of grim Boreal Fiends melody envelops wth its fetters from all sides, swirling in a whirlwind of its riffs and tunes. The main motive so slowly moving towards melancholy and gloomy ballads style. In the middle of two voices sound tune northern spirits, then brief guitar solo anticipates the transition to a more somber music heralds gloom gloomy vocals. But then the sadness and longing drops off with rhythm acceleration and desire to keep warm in the northern winds.
Tight rhythm revolves around the main motif, surrounding him with their inconsistent blows. They can not be otherwise - their purpose specified origin, because they are Inbred Vermin! Then the riffs changes their style to something like rock'n'roll, but the darkness and horror of sound coming back to hide again then . But the cheerful riff kkep on rocking, though dark and viscous terror and horror completes that track.
The title track Arctic Thunder begins with memorable guitar riff, extending along its entire length like the main motive. The atmosphere of gloomy romance surrounds the stretch on during the initial part of the Throw Me Through the Marshes. Then, after the proclamation of romantic chantst - north winds is circling into the melodious whirl of folk tunes vortex.
Arctic concerns very foundations with its breath, Deep Lake Tresspass rushes on the wings of the north winds in the clouds through the ice and frosty sheen of the Northern Lights.
Powerful clear rhythm paces irresistible march, overpassing The Wyoming Distance. Equable pace slows down in bridge between verses, thickening and darkening atmosphere of encompassing space. And the story ends.